12 things to do by chance
A while back, a friend was feeling down, so I made her a "do-things" die. I found a template on the interwebs, then made my own version of it with a list of things to do by chance. It fits in an envelope and mails great…as long as it's flat. All you need is a printer, scissors and tape or glue to have your own die! The last step takes some patience…just hang with it.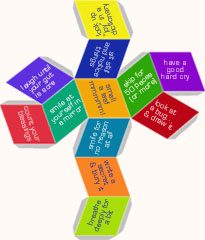 The template came from Kevin Cook's paper dice templates (note: if you venture off the dice templates page, beware. It's blinky-city.) There are a bunch of paper templates…pyramid, standard 6, 8-sided, 10-, 12-, 16-, 20-sided. He's a total die geek. It's fascinating to see how many dice you can customize. D&D flashback for sure.
Let me know if you make any custom dice. We can start a diy-die club.